LIMITED TIME OFFER! Level up your brand with an in-depth audience insights package. Learn more here.
SIAL Canada 2023 Observations & Trends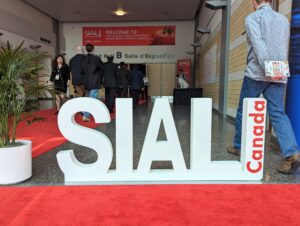 SIAL Canada, one of the largest food innovation exhibitions in North America, recently concluded, leaving attendees – including the BSG team – buzzing with excitement and inspiration.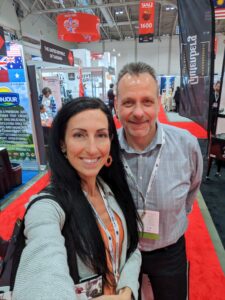 The Toronto-based event showcased a wide array of products from the food and beverage industry, revealing intriguing trends that are both reflecting and shaping consumer preferences and product, packaging, production and retailing innovations.
Below we delve into some of the hottest product trends observed at the show, providing a glimpse into the future of the food industry.
Plant-Based Revolution:
The plant-based movement continues to gain momentum, and SIAL Canada was no exception. Exhibitors showcased an impressive range of plant-based alternatives, from meat substitutes to dairy-free alternatives and innovative plant-based snacks. Consumers are increasingly seeking healthier, sustainable options, and the industry is responding with plant-powered solutions that offer both taste and nutrition.
Functional Foods and Ingredients:
Consumers are becoming more conscious about the impact of their food choices on their well-being. This trend was evident at the show, where functional foods and ingredients took centre stage. From probiotics and prebiotics to adaptogens and superfoods, exhibitors highlighted products that offer specific health benefits, such as improved digestion, enhanced immunity and increased energy.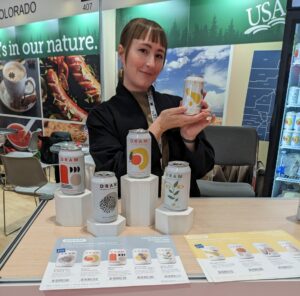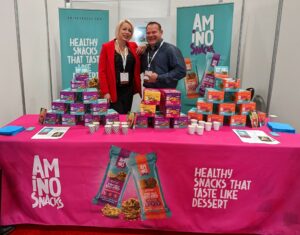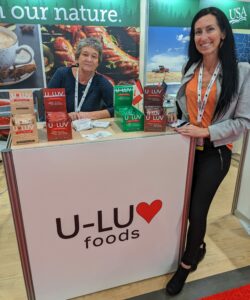 The Dram Apothecary booth was packed as people were lined up to try their unique Adaptogenic Sparkling Waters. Extremely clean, sugar and calorie free, all of these beverages delivered a functional benefit, while serving as a great-tasting and unique alternative to other beverages on the market.
We were extremely impressed with the (Canadian) Amino Snacks team and their healthy, high protein snacks that truly do taste like dessert. We also spent quite a bit of time with Debbie from U LUV Foods who launched a tight range of plant-based, nut-free, dairy-free, gluten-free cookies that are manufactured in a top 14 allergen-free facility (wow!).
Portable Convenience: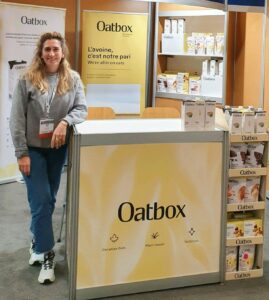 The return to school and in-person activities has also meant a return to portable, convenient food and beverage options as an important part of the daily routine. Products like Saskatchewan-made Todd's Better Snacks Protein Crisps have seen a resurgence in demand for their portable snack offerings, while convenience was front and centre for ready-to-drink canned teas, single-serve microwaveable meals and Oatbox Organic Overnight Oats featuring simple, no-cook blends.
Sustainable Packaging Solutions and Upcycled Ingredients:
Environmental concerns are driving a shift towards sustainable packaging options within the food industry. Exhibitors showcased innovative solutions, such as compostable packaging, biodegradable materials, and eco-friendly alternatives to single-use plastics. The focus on sustainable packaging demonstrates the industry's commitment to reducing its carbon footprint and meeting consumer demands for environmentally responsible choices. Catching our attention were products from Revived Foods, featuring upcycled food ingredients like carrot pulp (from juice production) and barley (a by-product of beer), in their plant-based entrees.
Less Processed and Whole Foods:
Consumers are increasingly prioritizing the quality and nutritional value of the foods they consume. This shift is driving a demand for less processed and whole foods that are closer to their natural state. Exhibitors showcased a wide range of minimally processed products that retain the integrity of their ingredients. From whole grain products to raw and organic foods, there was a strong emphasis on offering unadulterated options that are rich in nutrients and free from artificial additives.
The spotlight on these products aligns with the growing interest in clean eating and the desire to have greater control over one's diet. Consumers are seeking products with transparent ingredient lists and recognizable, wholesome components.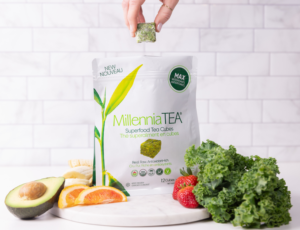 The trend emphasizes the importance of ingredient sourcing, food integrity and nutritional value.  Whether it be healthier options of a tried and true kid favourite like Bob Snail's 100% natural ingredient fruit rolls, or Millennia Tea's green tea (SIAL Gold winner) that is flash-frozen allowing it to be 5X higher in antioxidants than traditional green tea, less processed options with a focus on maximizing nutritional benefits were prominent.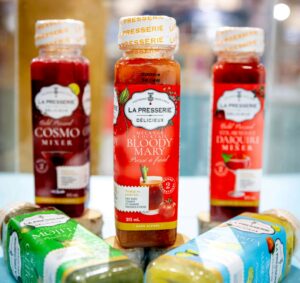 There were also a number of cleaner, reimagined products that stood out to us.  Instead of chocolate covered almonds, there are chocolate covered chickpeas from Three Farmers, while La Presserie's Cocktail Mixers (SIAL Bronze winner) are made with cold-pressed fruits and agave syrup in small batches, setting them apart from traditional shelf-stable offerings.
Ethnic Flavours and International Cuisine:
With the world becoming increasingly interconnected, consumers are eager to explore global flavours and experience new culinary adventures. The show celebrated the diversity of cuisine, showcasing a plethora of international flavours, spices and ingredients. From traditional recipes to fusion creations, exhibitors demonstrated the versatility and creativity that can be found within different cultural cuisines.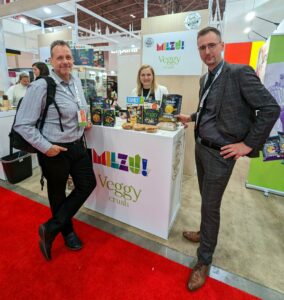 Products that really impressed us included the unique/global/spicy flavours like Bites of Tang Sichuan Mala Black Rice Crisps and the high protein, great tasting Veggy Crush Hemp Crunch snacks from MILZU! (SIAL Paris 2022 Selection).   
Conclusion:
While we were excited at the prospects and the potential for many of the products that we saw at the show, we were also struck by just how challenging the Canadian market is to navigate. Whether it be in gaining product availability in retail or dealing with the challenges of supplying a geographic market as big as ours, there is clearly an urgent need to do better, faster. Getting products to retail is only one part of the challenge. Activating brands in order to gain trial and consistent repeat purchase is a critical, but often overlooked, step in achieving success in our market.      
SIAL Canada proved to be an exciting showcase of the latest product trends in the food and beverage industry from both at home and from around the world. From the surge in plant-based alternatives to the emphasis on functional foods and sustainable packaging, these trends reflect the evolving demands and preferences of consumers. As the industry continues to innovate, it's crucial for businesses to stay attuned to these trends and adapt their offerings accordingly to meet the changing needs of their customers. The show has provided a glimpse into the future, inspiring us to embrace healthier, more sustainable and culturally diverse food choices.
#sialcanada #sialto2023 #ownthechange #foodandbeverage #innovation #cpg #retail
BritOn Solutions Group Inc. is a boutique sales and marketing consulting agency with advanced expertise in crafting comprehensive, multi-disciplinary strategies that deliver profitable revenue and growth for Consumer Packaged Goods (CPG) companies, brokers and retailers. Visit britonsg.com to learn more.
*Photos & images courtesy of Kristine Churchward, Chris Rodkin and SIAL Canada