LIMITED TIME OFFER! Level up your brand with an in-depth audience insights package. Learn more here.
CHFA NOW Toronto: BSG's Top Natural, Organic and Wellness Trends
By BritOn Solutions Group Inc.
CHFA NOW Toronto serves as a hub of wellness trends in Canada, uniting professionals and enthusiasts eager to explore the latest industry developments. We were lucky to have the entire BSG team down on the show floor, starting with the Launch Pad event on Friday evening through to the show conclusion on Sunday afternoon.
You may have spotted us in our bright orange BSG gear and while it was our goal to stand out to those in attendance, we wanted to summarize the key themes that stood out to us. 
Here are the top five trends we observed at the show:
Great Tasting Plant-Based Innovations

High Impact Functional Foods and Supplements

Non-Alcoholic Beverage Explosion

Natural HABA and Personal Care

Emergence of Plant-Based Pet Nutrition
Great Tasting Plant-Based Innovations
The spotlight shone brightly on plant-based food and beverage products, reflecting their surging popularity and rapidly expanding assortment.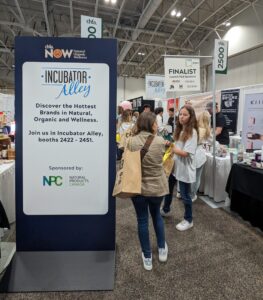 We began the show with a visit to Incubator Alley and were impressed with both the creative and innovative spirit of the founders (and their families & teams!) and with the products themselves. Brands like Seed to Surf, Grazy, Happy Era and NanaShake all represented new plant-based products that also tasted delicious. We tasted an incredible array of salty and savoury snacks, frozen treats (shout out to the new & improved NanaPops 3.0!), unique spice and sauce blends, and so much more – representing every preference and flavour profile.
The evolution of the flavours and broad offering made it clear that the consumer does not have to compromise when choosing healthier products that taste great. We popped by Califia's booth to enjoy a festive taste of the season with tasty pumpkin spiced lattes, ventured into new territory with Ben's BS spicy dill pickle BBQ sauce, snacked on Good to Go keto blondies & brownies, and grain-free, vegan cauliflower tortilla chips by Real Food From the Group Up, and sampled all-natural, preservative-free spices from Spyce Girlz, perfect for everything from tacos to dips.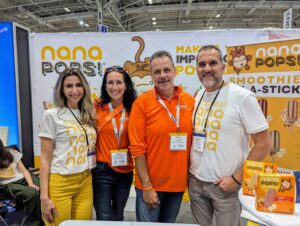 Congratulations and kudos to all of the CHFA exhibitors – we were blown away by the flavour, taste and textural profile of all of the products that we tried over the course of the weekend!    
High Impact Functional Foods and Supplements
Functional foods, nutraceuticals, and supplements tailored to address specific health needs were also prominently featured.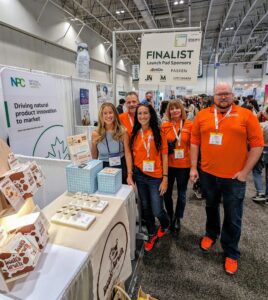 While products in this space are a constant at every CHFA show, the breadth of products, the clarity of the positioning and the highly specific application for each was remarkable. From big brands like Jamieson Wellness and CanPrev to upstarts like SUKU Vitamins, Beck's Broth and Feed That Brain, the products, packaging and clarity of benefit were all on point!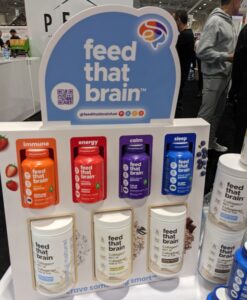 We even tried the organic, cold-pressed, nutrient-rich baby food from Impress Foods (and were impressed!), as well as their cold brew tea, probiotics and raw, organic cold-pressed juices.
Non-Alcoholic Beverage Explosion
Carrying on with a theme that emerged at CHFA NOW Vancouver earlier this year, the number of non and dealcoholized beverage products that were on display was next level. We were delighted by the innovative craft sodas from Buddha Brands that represented all of our favourite traditional soft drink flavours and had to once again sample the amazing Secret Nature of Fruit from Dole Canada. 
These products were all flavour-packed, extremely low sugar and provide functional, gut-healthy alternatives to more mainstream and traditional soft drinks. There was also plenty of Canadian representation from non-alcoholic beer brands like Partake and Sober Carpenter, while Edna's Non-Alcoholic Cocktails were another must-try!
Natural HABA and Personal Care
The BSG team was proud and excited to be one of the sponsors of the CHFA Launch Pad at this year's show. There was a wide variety of participants in this event and it was not lost on us that three of the finalists represented natural health, beauty aids and personal care categories. The innovation on display was meaningful and relevant. From Kiima with their environmentally friendly refillable deodorant applicator to the Magnificent Magnesium Lotion from Pure Joy Naturals out of Winkler, Manitoba. The product that stole the show (and the competition winner) was Pleasure Pods plant-based lubricant, another stand-out product in the natural HABA and personal care space. Beyond the Launch Pad, the number of brands and booths representing these categories clearly demonstrated how quickly this space is growing.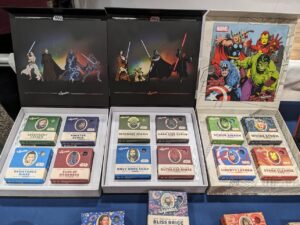 We enjoyed stopping by the Dr. Squatch booth to see the new product lineup including some special/limited-edition items (Marvel Avengers, Star Wars) that were garnering attention. Another Incubator Alley stand-out: Simply Go Natural Cosmetics – a Nova Scotia-based Black woman owned company, with multicultural roots and inspiration offering cruelty free handcrafted, plant, health, nutrition based, biodegradable and environmentally friendly products. As we experienced with the food and beverages being sampled, there is no trade-off to be made in the natural HABA space either. These products deliver for both people and the planet. Now the challenge and the opportunity lie in making them much more widely available and accessible.
Emergence of Plant-Based Pet Nutrition
Adding a new dimension to the wellness landscape, pet nutrition was a noteworthy trend we observed. As pet owners increasingly prioritize their furry friends' well-being, products tailored to pet health and nutrition are gaining momentum.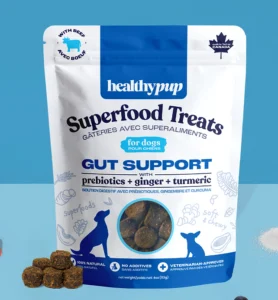 Featuring Canadian brands like SNÜF Natural Pet Food, women-led with nutrient rich, functional, planet-friendly food and treats, Smack Pet Food with their lineup of raw dehydrated superfoods for both cats and dogs to healthypup's superfood treats with prebiotics to help dogs thrive from the inside out, there was an obvious step up in the innovation and offerings focused on our furry friends. Plant-based is not just for humans, and we see this gaining broader appeal as a lifestyle choice for the entire family. 
Conclusion
CHFA NOW Toronto was an incredible opportunity for the Natural, Organic and Wellness industries to come together and celebrate innovation, fresh thinking and positive momentum. That said, we all know that inflation is rampant, volume growth is tough to achieve and it feels like the industry is 'grinding it out' right now. While 2023 has been a tumultuous year for many, we still see so many opportunities for growth while working as a collective to wrestle some of the big, systemic issues to the ground. It was remarkable that the majority of the products that we sampled had levelled up to remove many of the persistent barriers to gaining much broader consumer engagement. Now the focus turns to bringing these products to market and activating them.   
With emphasis on great tasting plant-based innovation, high-impact functional foods, the continued growth of non-alcoholic beverage options, natural HABA and now pet nutrition, the industry is evolving to meet the diverse needs of Canadian consumers – all while promoting health, sustainability, and inclusiveness. We are hopeful and optimistic that the economic conditions in Canada stabilize over the coming months to allow these high potential products to gain traction and for the many retailers supporting these consumers to thrive. Looking forward to an amazing 2024 ahead and supporting many of these brands as they continue on their journeys!
——-
BritOn Solutions Group Inc. is a boutique sales and marketing consulting agency with advanced expertise in crafting comprehensive, multi-disciplinary strategies that deliver profitable revenue and growth for Consumer Packaged Goods (CPG) companies, brokers and retailers. Visit britonsg.com to learn more and follow us on LinkedIn, Facebook, Instagram and Twitter.
*Photos & images courtesy of Kristine Churchward, Chris Rodkin and healthypup